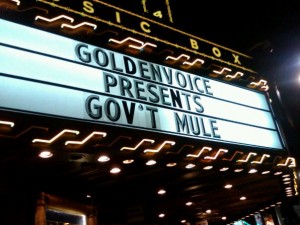 For my dollar, Warren Haynes is the best rock guitarist alive.  The fact that he surrounds himself with other legendary musicians doesn't hurt either.  Consider his track record – guitarist for The Allman Brothers, The Dead, David Allen Coe, Dickey Betts, and of course Gov't Mule and the recent Warren Haynes Band.  Not to mention the hundreds of guest appearances and collaborations with artists from Dave Matthews to James Hetfield.
Warren is something of a musical chameleon.  When he plays the blues, you'd think he was a direct descendant of Robert Johnson.  If his last name was King, he'd be right there with Freddie, Albert, and B.B.  He might be the only one who can pull off jazz standards,  Black Sabbath, Eagles, and Prince songs in the same set and make it work.  No matter the genre, Warren's style and sound are unmistakeable.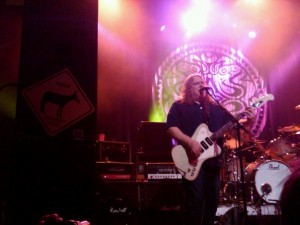 Today we'll focus on the work of Warren's most adventurous sonic playground – Gov't Mule.  Not to detract from 20 years worth of original material, looking at how they interpret other songs and make them their own (and often better) is a study of musical mastery and creativity.
It's been said Gov't Mule is the world's best cover band.  Hear why…
Hammer and Nails – Warren takes this gospel song from the Staple Singers as a chance to show off some soulful singing and gutsy slide playing – all over a reggae-ish backbeat.  A prime example of adding just the right kind of spice.
She Said, She Said – Though Gov't Mule don't mess with the harmonic blueprint of this Beatles song, the subtle twang of the guitar and vocal make it sound more South Carolina than Great Britain.  The solo and end jam fit so well that it's easy to forget they are the Mule's original additions.
Railroad Boy – This is a Celtic folk song also recorded by Joan Baez.  The Mule respect the traditional groove while adding a few original riffs a la Led Zeppelin's take on When The Levee Breaks.
Creep – A southern jam band covers Radiohead and doesn't sound cheesy.  Amazing.
Presence of the Lord – The original Mule lineup was a power trio to rival Cream.  Here they pay tribute to Clapton and Blind Faith with everything that makes this music timeless – the wild intensity and deep soul wielded by virtuosos.
Gov't Mule's covers are so good, they have their own holiday – Mule-o-ween.  For the past 6 years on Oct. 31, they've been dedicating a whole set to the music of a particular classic rock band:
2007 ~ Led Zeppelin       2008 ~ Pink Floyd           2009 ~Rolling Stones                                      2010 ~ The Who              2011 ~ Sly & The Family Stone (Warren Haynes Band)                        2012 ~ Jimi Hendrix
Bonus – Warren Haynes playing U2's One.  Not a Gov't Mule cover technically, but more than worth the listen…